Your search for the best LMS ends here
Stop worrying about costs, IT skills, and missing features. Unlock your team's potential with the best online training software tool.
Create free account
Set up your training easily
Building your training shouldn't take months. TalentLMS, the top LMS system even for beginners, was built with ease of use in mind. With all the tools you need to upload your existing training content or design it from scratch, you will never spend time figuring out how it works. Focus on generating transcendent training — not on fighting the platform.

Sign up for a forever-free account. No credit card required.
Go live in half the time
Have your training up and running 2x faster. When other LMS vendors demand your full attention for 3 months on average, TalentLMS makes sure you hit your goals in half the time, and go live in just 1.3 months. Get ahead of the competition and launch your training program faster with an easy-to-use, top LMS and a team of experts, always happy to help every step of the way.

Sign up for a forever-free account. No credit card required.
Get your money back faster
Both your time and your money matter. Achieve a shorter payback period by taking your training live faster and creating a training program that your learners will instantly engage in. Maximize user adoption by providing a two-way learning experience that feels anything but static. Go with the best LMS platform and welcome a positive ROI in just 10 months.

Sign up for a forever-free account. No credit card required.
An integral part of your team

TalentLMS is all for adaptability. Use it as your corporate LMS if you run a big organization, or as your SMB training solution. Choose the best LMS software tool to onboard new hires, manage your compliance training and help your employees grow. Have all your creation, delivery, and assessment tools in one place, and enjoy a streamlined training initiative.

A strategic advantage

Go with the best LMS software to expand your business's potential. TalentLMS sticks with you in the long run and becomes a valuable tool you can depend on for your company's training strategy. Make learning part of your business's DNA with TalentLMS, the top eLearning platform that grows as you grow.
Your all-in-one solution

Deliver training on a training platform that understands your needs. Use a top LMS system with an interface even beginners know how to use, and the features sophisticated users need. Create your free account in minutes, test the platform, and see for yourself why users choose TalentLMS among the most popular learning management systems.

Simple and clean

Save time, energy, and resources by switching to an intuitive, easy learning management system. With TalentLMS, everything is just a few clicks away no matter who uses it. It's simple, understandable, and ready-to-use whether you're building an online course for the first or the hundredth time.

Straight from our customers
I extensively reviewed over 20 LMS products when determining the right system for my company's training needs. The cleanliness, simplicity and feature-fullness of the product is what stands TalentLMS apart from the others.

G2 reviewer
I've used TalentLMS as our premier learning and development platform for my entire organization and I've been 100% satisfied! I've been able to streamline new hire training, cross-training, compliance training, and continuous career development using Talent and it was super easy to do.

G2 reviewer
The platform is easy and flexible to use. The features and tools have been central to delivering our digital learning strategy for the last 4 years. Loved by our learners and clients.

Hector P.
We switched to TalentLMS and I can't believe how much the people using it love it. It's simple, clean, and understandable, which saves a lot of time. However it has a robust API if you need custom features or integration with existing systems.

Noah L.
Do your research: The top LMS comparison matrix
Based on G2's momentum grid scoring for corporate LMS
The verdict is in, and TalentLMS outranks the most popular learning management systems on the market right now. In 2021, users named it a leader in satisfaction, while the major comparison website, G2, placed it at the top of the momentum leaders list.

So, why would you settle for less? Save market research time and forget about all those LMS pricing comparison lists. Create your TalentLMS free account, check our adaptable pricing model, and see for yourself why users think the world of us.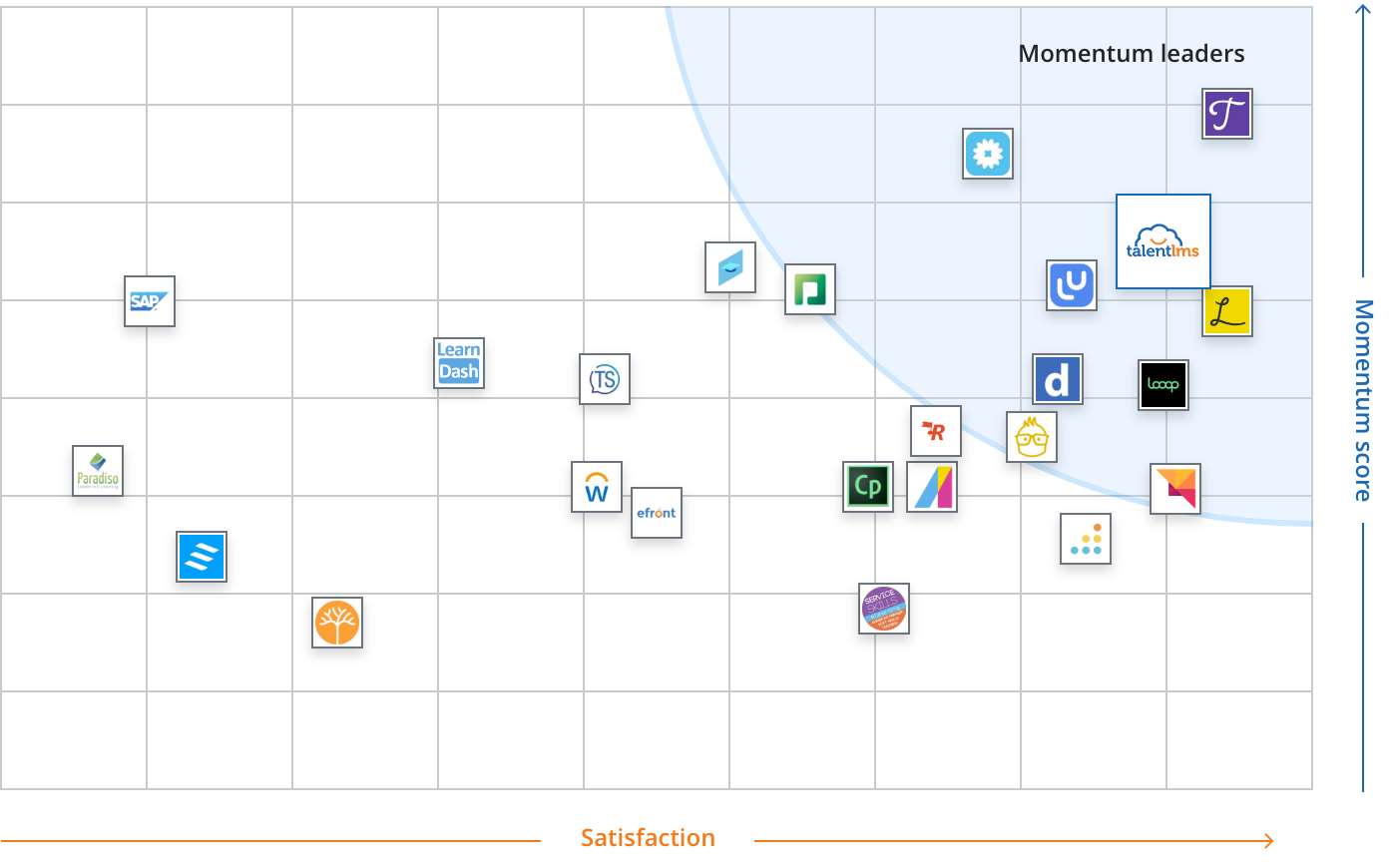 Train your people. Measure results. Drive growth.
TalentLMS gives you the tools to supercharge every step of your training.